Yesterday's online and paper editions of the Austrian newspaper 'Heute' (Today) featured an article and photo gallery of the Austrian Interior Ministry's anti-terrorist / special operations unit 'Einsatzkommando COBRA'.
In the photos below, we see a two-man sniper team in their standard-issue GreenZone™ camouflage smocks and trousers from SABRE in Germany.  COBRA has been using a range of GreenZone™ camouflage clothing and equipment made by SABRE since 2012.
Einsatzkommando (EKO) COBRA is a member unit of the ATLAS Network of European police special operations units.  EKO COBRA regularly conducts training exercises together with colleagues from Germany's GSG9, France's GIGN and RAID, Britain's SCO19, and others.  Within 28 member states of the ATLAS Network, EKO COBRA is said to provide the subject matter expertise in the area of raids on buildings.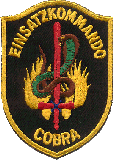 See the full 'Heute' article and photo gallery online here.
The official website for EKO COBRA can be found here (in German language only).
hat tip to David Jaklin